ShapeWin's founder Yusuke Kamimura participated in a live roundtable conference regarding the market landscape of Japan. This event was hosted by Creative Culture, an organization that draws upon the expertise of over 2,500 in-market specialists in over 120 countries to unearth
cultural differences and insights, and turn them into opportunity.
Create Culture has successfully organized roundtables for countries such as Brazil, Russia, Saudi Arabia, Nigeria, and India in collaboration with PRCA and ICCO, leaders in the communications industry. This year's roundtable focused on the marketing and communications opportunities
and challenges faced when doing business in Japan. Local experts in trade, media, and cultural issues shared their deep insights with various SME audiences.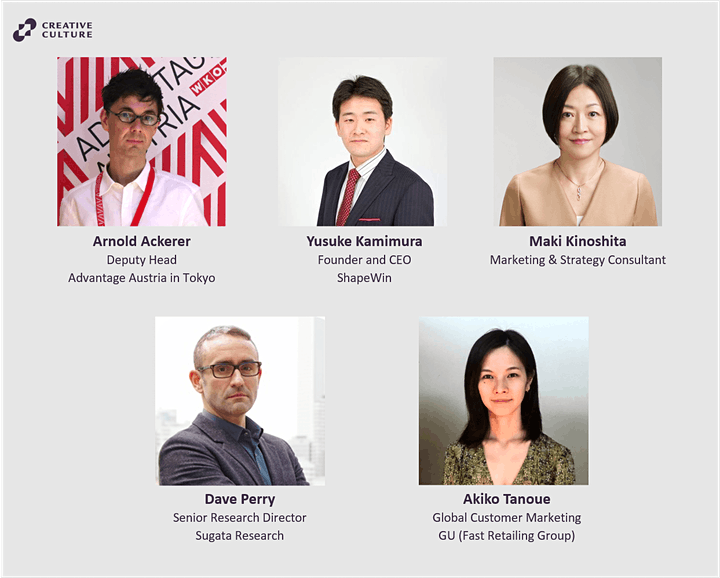 In this panel discussion, experts discussed marketing and public relations tips for entering the Japanese market. Mr. Kamimura explained key points regarding networking with the Japanese mass media and how to best utilize it from a PR perspective.
Speaker Biographies:
Mr. Arnold Acker
Mr. Acker is the Vice President of Advantage Austria Tokyo (Commercial Attaché at the Austrian Embassy) and co-founder of TechBIZKON, an annual tech conference for startups and investors in Japan and Europe.
Mr. Yusuke Kamimura
Mr. Kamimura has more than 10 years of experience in helping foreign companies succeed in the Japanese market. He has worked with the Japanese government and public institutions on symposiums, exhibitions, trade shows, and lobbying. In addition, Yusuke Kamimura, founder
and CEO of ShapeWin, a PR firm for Japanese IT startups and educational institutions, will share his expertise in media and communications. With a background in marketing and experience at SEGA, he discussed mass media channels in Japan and how to optimize them to target the
Japanese consumer.
Ms. Maki Kinoshita
A marketing and strategy consultant, Ms. Kinoshita has extensive experience in the Japanese food and beverage and health and nutrition industries, and provides cross-cultural insights for global retail brands. She discussed the behavior of local Japanese people as well as trends in
consumer goods.
Mr. Dave Perry
Mr. Perry is a Senior Research Director at Sugata Research, one of Japan's leading qualitative marketing research firms. He provided his expertise on the recent evolution of consumer insights, covered key elements of the Japanese consumer market, including market size, wealth
and income disparity, why Japan matters, pitfalls and successes, heritage and quality, service standards and technology.
Ms. Akiko Tanoue
Ms. Tanoue is a global customer marketing professional at GU (Fast Retailing Group) and has extensive brand experience in Japan, having worked on projects for Nike, Volkswagen and Audi. She focused on social media, influencer marketing, Japanese youth, and other important
aspects that international brands need to be aware of when developing campaigns in Japan.